Access To Infrastructure
Serica is operator of the Bruce field and associated platforms and subsea infrastructure and is working to extend field life, increase the utilisation of the facilities and maximise economic recovery from the area as a whole. The extensive infrastructure associated with the Bruce field offers significant capacity for third party tieback opportunities. Serica welcomes enquiries from potential shippers.
Bruce Area
Last updated: February 2023
Bruce Max Capacity
70,000
barrels/day oil
440
mmscf/day gas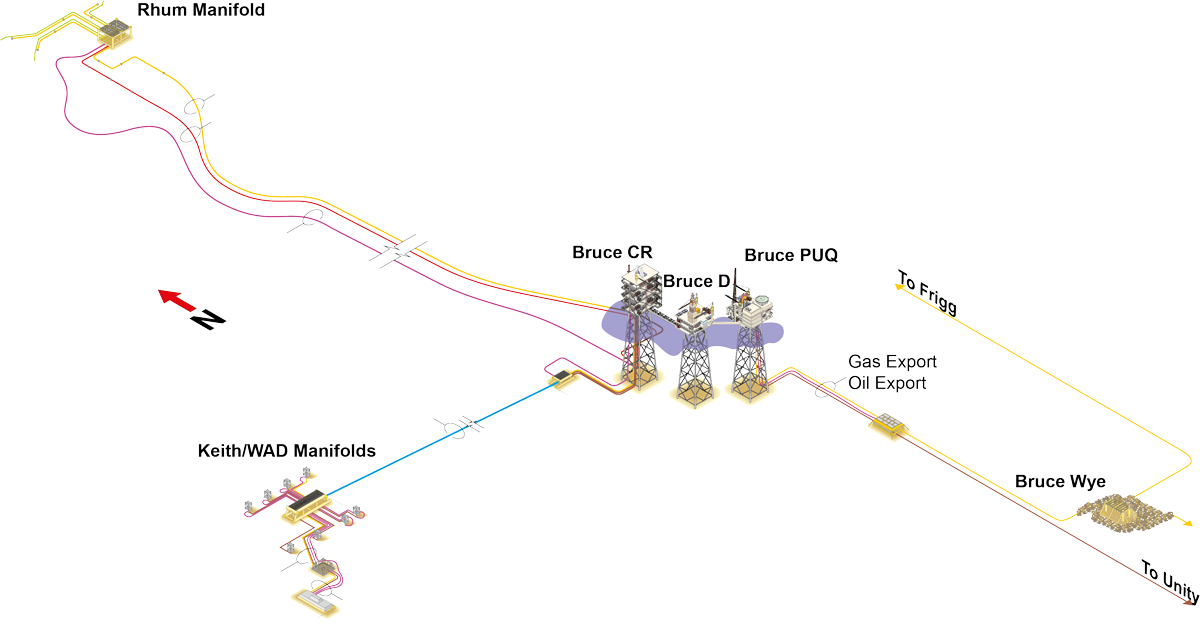 Overview
The Bruce complex is located in blocks 9/9a, 9/8a and 9/9b. It lies 340km to the northeast of Aberdeen, Scotland in the UK Sector of the Northern North Sea.
The Bruce complex consists of three bridge-linked platforms:
A Production Utilities Quarters Platform with quarters for crew (max. 168 persons);
A Drilling Platform; and
A Compression/Reception Platform which hosts reception and compression facilities.
The subsea Keith and Rhum fields are both tied back to the Bruce complex where they are transported and processed for export. Gas is exported via the Frigg pipeline to the St Fergus terminal and liquids are exported via the Forties Pipeline System.
Capacity Projection
The current capacity projection for the Bruce platform over the next 5 years is shown in the table below:
Description
Unit
Max Capacity
Projected ullage
(% of maximum capacity)
 
2023
2024
2025
2026
2027
Oil Handling Capacity
BPD
70,000
Gas Handling Capacity
MMscfd
440
Produced Water Capacity
BPD
20,000
Water Injection Capacity
BPD
35,000
Available Capacities key:
 >25%
 5% to 25%
 <5%
Note: Capacities for gas processing based on current export pipeline operating pressure which is subject to change and may reduce overall throughput
Outline details of primary separation processing facilities
The Bruce facilities have three primary first stages of separation:
The CR Slugcatcher processes gas from the Western Area Development and Keith subsea tie-backs. The CR Slugcatcher is a horizontal 3-phase separator
HP Separators process gas from both the Bruce platform wells and the CR Slugcatcher. There are two HP Separators which are vertical 3-phase separators (currently operating in 2-phase mode)
The Rhum Separator processes gas from the Rhum subsea tieback. The Rhum Separator is a vertical 3-phase separator. Gas is treated immediately after the Rhum Separator for H2S by scavenging
All liquids are routed from these vessels directly to LP Separation. Water is sent on for processing and oil is exported via a 24" pipeline to FPS via the Unity Platform.
Outline details of gas treatment facilities
Bruce has three stages of compression and gas dehydration facilities:
LPBC – Low Pressure Booster Compressors
MP – Mid Pressure Compression
Export – Export Compressors
Dehydration occurs between MP and Export compression stages
There are two LPBC, two MP, and two Export Compressors available. Dehydration occurs through a single dehydration column operating a glycol regeneration process. Gas is exported via a 32" pipeline to St Fergus via the Frigg Pipeline system.
Contact Information
Should further information or clarification on the above data be required, please contact: commercial@serica-energy.com 
Disclaimer
All information is provided by Serica Energy as per the Infrastructure Code of Practice (ICOP) Guidelines. The prospective user is encouraged to enter into dialogue with Serica Energy should further information be required.
Whilst the information is provided in good faith, please note that it is provided without warranty, implied or expressed as to its accuracy or relevance of use by any other party and no liability shall be borne by Serica Energy UK Limited under any circumstances relating to the data and the use thereof.