As operator, Serica has invested in its assets and increased production
Bruce, Keith & Rhum
Serica is owner and operator of the Bruce (98%), Keith (100%) and Rhum (50%) assets consisting of over 25 wells, three bridge-linked platforms and extensive subsea pipelines and infrastructure that tie-in Rhum, Keith and the Western Area of Bruce to the Bruce facilities. Collectively, these assets provide a significant contribution to the UK gas demands.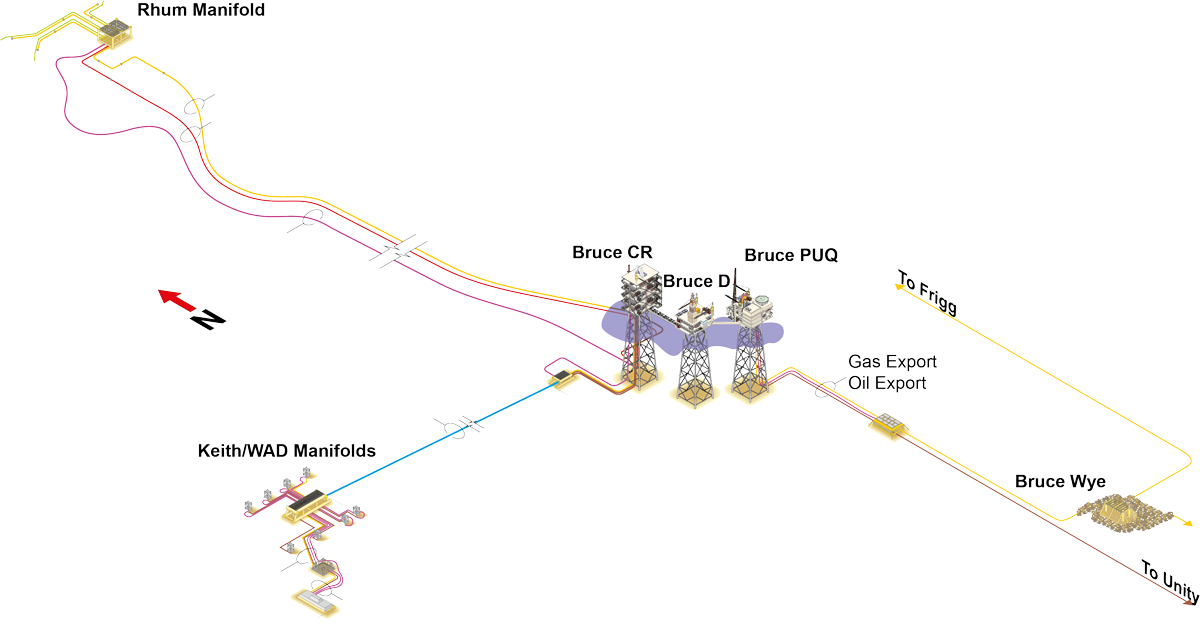 Bruce
The Bruce field is a producing asset located in blocks 9/9a, 9/8a and 9/9b in the Northern North Sea.
Average production of around 7,200 boe/d net to Serica in the first half of 2023
Gas exported via the Frigg pipeline to the St Fergus terminal and liquids exported via the Forties Pipeline System
Comprised of three linked platforms:

Production Utilities Quarters Platform with quarters for crew (max. 168 persons)
Drilling Platform
Compression/Reception Platform which hosts reception and compression facilities

Combination of platform wells and Western Area Development subsea tie-back
Partners: Serica (operator) 98%, BP 1%, Total 1%
7,200
boe/d
Bruce first half 2023 production net to Serica
Keith
The Keith oil field is located in block 9/8a in the Northern North Sea, 6.4 km to the southwest of Bruce. The well is currently shut in whilst a well intervention is being planned.
Single well subsea tie-back to Bruce
Partners: Serica (operator) 100%
Rhum
The Rhum gas field is located in block 3/29a, 44km north of Bruce and is a subsea development tied back to the Bruce platform via an insulated pipeline. Rhum is a strategic UK gas asset with significant upside potential.
Three subsea producing wells, R1, R2 and R3, with average production around 16,300 boe/d net to Serica in the first half of 2023
R3, was worked over during 2021 and added to Rhum's production capability
High quality reservoir displaying 'tank' characteristics
High pressure, high temperature reservoir
Partners: Serica (operator) 50%, IOC (UK) Limited 50%
16,300
boe/d
Rhum first half 2023 production net to Serica